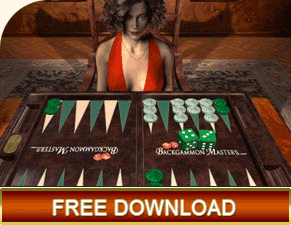 Ways to Advance Your Backgammon
Once you've learned the basics of the game of Backgammon and have become comfortable and won a time or two, the next consideration should be on how to advance your Backgammon skills. One of the easiest ways to become more proficient at Backgammon is by learning Backgammon variations. Many of these variations force you to think harder about the strategy of the game. Once basic Backgammon is learned you should be looking to improve your Backgammon by playing Hyper-Backgammon, Nackgammon, Rollover, or Long-Gammon. These are just a few of the Backgammon variants. Each has different difficulties placed on the game which will inevitably advance your Backgammon skills during normal game play.
One of the most basic variants is that of Long-Gammon. Long Gammon can improve your Backgammon skills by changing the basic strategy of the game. To play Long-Gammon two players set up all of their checkers on the one point of the other player's home board. The goal is then to get all of the checkers off of the board. The reason that this is good to play to advance your Backgammon skills is it changes the starting point of the game, extends game play, and forces a different strategy.
Many of the variants force a change of strategy simply by placing the checkers on different points before game play starts. To advance your Backgammon play it may also be beneficial to do this on your own to get a better feel of the dynamics for each checker move.
This is only a tip of the iceberg in ways to advance your Backgammon play. Experiment on your own and, like life, never keep learning.