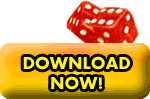 How to Win Real Money at BackgammonMasters.com

If you want to play and win real money on BackgammonMasters.com, you'll need to start by downloading the BackgammonMasters.com software. When you're finished downloading BackgammonMasters.com's easy to use software, simply double click your BackgammonMasters icon to get ready to enter a whole new dimension of your favorite games.

Before you start playing, you'll need to tell us who you are. After you create a username and password, click on the Cashier button to register you details. At this point you will be offered a variety of convenient methods for depositing.

Now you're all ready to play. You might want to play a few rounds of play money games to get used to the game environment, and then you'll be ready to play for real money.



Deposit Methods

If you're over 18 years old, you can deposit your playing funds by using any of the following electronic payment methods:
Visa offers direct deposits using your credit card
MasterCard offers direct deposits using your credit card
Diners offers direct deposits using your credit card
Solo offers direct deposits using your credit card
Switch offers direct deposits using your credit card
Delta offers direct deposits using your credit card
Visa Electron offers direct deposits using your credit card
NeTeller is an online payment service which provides an instant, secure, and easy way to deposit money into your BackgammonMasters.com account.
Wire Transfers allow you to deposit money directly from any bank account in the world.
Direct Transfer With DIRECTebanking.com, you can deposit using your own online bank account. All you need is to have your online banking details handy.
Paysafecard
When completing successful deposit, The charge on your bank/CC statement will appear as
ALW*jdlucky442033188334

Depositing Money in Your BackgammonMasters Account
On the bottom left hand side of the lobby screen, you'll find a "CASHIER" button. Press it and you'll get to the cashier menu screen. To make a deposit, click the Deposit button. Then select your payment method.

The BackgammonMasters.com software will open a window which will instruct you to fill in the necessary information to make your deposit, depending on the payment method you have chosen. After you have entered the required information, you will receive confirmation of your deposit and your new balance.

Note: All deposits are in US dollars.


The two types of Real Money Accounts
Real Money Account - (RMA)
Account opened with initial deposit made by player.

Real Money Bonus Account - (RMBA)
Account opened with Free Money Bonus deposit given FREE by BackgammonMasters.

Deposit and Cash Out from your Account

RMA
Deposit and Cash Out easily! You have already registered, deposited and become a verified user!


RMBA
User may withdraw twice the amount of what they deposit.


***Please note, account status does not change to RMA if user deposits less than the entire balance of their RMBA.


Example:
You increase your winnings and your RMBA balance is $100
In order to cash out you must deposit at least $20 (which entitles you to withdraw $40).

In order to cash out $100 you must deposit at least $50.
If you deposit less than $100, your account remains RMBA.
If you deposit at least $100 your account status changes to RMA.
Playing for Real Money
Real money mode

Single Play and Match Play games are set up for you. Just decide how much you want to wager (Stake/Limit) and click on the room that fits your needs.

Poker Rooms
Play Limit Texas Holdem Poker. Just click on the rooms you want to display according to stake/limit. Then select a table to join from the list in the center of your screen.


Open Table rooms allow you to set your own game specifications, such as stake/limit and whether or not you want the option of doubling. Minimum with doubling cube: $15/$30

Hyperbackgammon A special variant of backgammon. You play with just three checkers each, but the rules are the same as in standard backgammon..

Sit & Go tournaments are offered around the clock. As soon as enough players register, the tournament starts.

FreeRolls
Tournaments with no buy-in. BackgammonMasters offers 6 Freerolls each day with 28 winners. Daily prize pool of $750!


Withdrawing Winnings From Your BackgammonMasters.com Account

To make a withdrawal, click the Cashier button in the Lobby and then the Cash Out button. Select the method you wish to cash out with and follow the instructions for that method. Electronic methods usually take 3-5 business days while check can take up to 21 business days..

BackgammonMasters.com uses advanced encryption and security technologies to ensure that your financial information is completely secure.