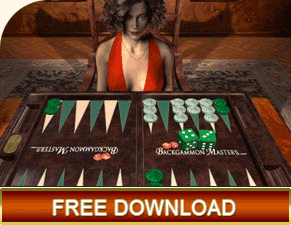 Playability of Backgammon Game Boards
Backgammon game boards have been standardised for centuries. Such is the games popularity, that the twenty-four elongated triangles which comprise the playing surface are instantly recognisable, even to those unfamiliar with the rules of the game. The adjacent triangles alternate in colour and two facing triangles are always of the opposite colour. Traditionally, game boards were black and white in colour, as were the playing counters. Today, this is no longer the case. The boards are commonly made of wood or cardboard. Colour schemes have evolved to match current fashions. A cheap, multi-board game travel version may include a red and blue backgammon game board, with matching counters, hoping to attract a younger audience.

The emergence of online gaming has further transformed the traditional look of backgammon game boards. On the internet, the design of the game boards has taken on a new dimension. Colour schemes and layouts range from subtle to irritatingly lurid and from the aristocratic to the amusing.

On the net, placing a logo on backgammon game boards has become the norm. This usually promotes the website or company providing the software or hosting the game site. Occasionally, external advertising is placed on the backgammon game board. This is rare, and in the odd case it does not interfere with playability.

In fact, playability is the key factor when looking for good backgammon game boards. Just a small board can be fiddly and frustrating, badly designed graphics and poor interfaces can ruin the enjoyment of playing online. Before downloading software or subscribing to an internet site, spend a few minutes getting to know the interface or software. In todays market, you can always try before you buy.