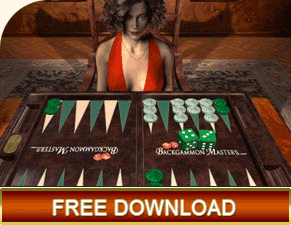 How does a backgammon layout differ online?
The short and simple answer is that there are few differences between an online and real backgammon layout. There are obvious cosmetic differences because of the way the game is delivered, but you will find that to play the game, any backgammon setup requires the same features.
All boards must have 12 triangles which connect to the outside edge and point inwards. They need to be in two alternating colours. These are still called points and total 24 in all. The colours chosen are not important, but they need to be clear to indicate where the pieces (checkers) are placed.
A noticeable difference online is that these points can be visibly numbered. On a real backgammon layout it would be too confusing as the players move in opposite directions, making number 1 for player A number 24 for player B. Online backgammon boards can be numbered because each player sees only their own screen and so will not conflict with their opponent's play.
Every backgammon layout will display a bar in the centre that divides the home (inner) board from the outer board. They can differ in appearance but will serve the same function. Any online backgammon set up will use virtual checkers that mirror those used in any backgammon game.
A roll button will replace the pair of dice that determine the amount of moves made. A double button will replace the dice with the numbers 2, 4, 8, 16, 32 and 64 which is required for tactical play. Some sites have added hotkeys which enable quicker play. These will be explained on the site that you choose.
Now you know what to expect from an online backgammon layout, you can go try it out and find one that suits you.