Backgammon Game Features

BackgammonMasters.com offers many special features. In order to access them, click the Options tab in the upper left of the game window, or use the shortcuts listed below.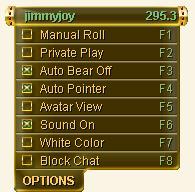 Manual Roll or Automatic Roll (F1)
You may choose to roll the dice yourself, or have the software roll the dice automatically as soon as it's your turn.

Private Play (F2)
If you prefer privacy when you play, you can choose Private Play in the options menu. In Private Play mode, no one can observe your game.

Auto Bear Off (F3)
Turning Auto Bear Off on will enable the software to automatically move checkers off of the board when they can be moved into the rack.

Auto Pointer (F4)
After you roll the dice, you can use your mouse to hover on any one of your checkers. BackgammonMasters.com software will show you all the possible moves for that checker. You will see a small gold-colored diamond at the base of each point that is a possible landing point for that checker.

Avatar / Table Mode (F5)
When you play backgammon using BackgammonMasters.com software, you can choose between two views. You either play in a table view, seeing only the tasteful backgammon board and background, or you choose to play opposite an avatar - a uniquely designed life-like character. Be sure to check out the avatar experience. You can easily switch back and forth between views by using the menu or by selecting F5. Remember that your opponent can see you in your avatar view too, so it's important to choose your favorite avatar from the avatars in the lobby.

Sound On/Off (F6)
Turning the software's sounds on or off, according to the game experience you wish to have.

Change Checker Color (F7)
Players can change the color of their checkers to white or green without affecting the color of their opponent's checkers, so if you like to play white, you can, no matter which color your opponent is playing!

Block Chat (F8)
Selecting this will prevent other players from contacting you through the chat.

Roll ( R, click on dice)
Done ( D, space bar, click on dice)
Back (B)
Double (D)

Auto Select Player
When you select the Auto Select Player option, you will be automatically paired off with another player who wants to play backgammon with the same stake/limit. There's no waiting because there are enough players online simultaneously to be paired off immediately. A game window will automatically open and the game will begin instantly, and the Auto Select Player option will be disabled until you select it again.
If you do not select the Auto Select Player option, you will receive offers from players to play, or you can double click on a waiting player to offer a game.
Open Table
When you select your stake and limit, there are a number of options to choose from. If none of them seem like the right stake and limit for you, you can go to the special Open Table tab and enter the stake and limit you'd like to play for. Other players will be able to view your newly created table, and if your game is right for them, they'll join you soon. Our Open Table rooms are especially designed for backgammon high rollers and VIPs.

Open Table tables offer the option of using the doubling cube to the value of 32, meaning you'll be able to double five times in a game.