Poker Game Features

Poker Options Menu: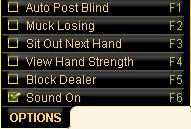 Auto Post Blind (F1):
Post SB or BB automatically when the game opens.

Muck Losing (F2):
Hide cards automatically when losing cards are revealed.

Sit Out Next Hand (F3):
Choose this option to automatically sit out on the next hand.

View Hand Strength (F4):
Shows the strength of your hand. (Pair, Flush, Straight, Three of a Kind, etc….)






Block Dealer (F5):
If you do not wish to receive messages of dealer calling moves in your chat box you can select Block Dealer.

Sound On/Off (F6):
Turns Sound Effects and Dealer Voice on or off.

More Chips:
Click to add more play money to your Balance. This box will display your balance as well the amount of play money you can add at any given time.







Lobby:
Brings the Game Lobby screen forward, without closing the game.






Leave:
Click to leave the game and forfeit your points / money.






Chat Box:
To send a message to other opponents, click in the chat box, type your message and click send.