BackgammonMasters.com FreeRoll "Tournamania" Highly Contagious.

February 7, 2007 -- This Thursday, 64 winners are guaranteed to receive a shot from the $10,000 Cash Prize Pool. BackgammonMasters.com, well-known in the world of online backgammon for its nonstop freeroll inoculations, day after day, week after week. BackgammonMasters continues with this constant outbreak of Freeroll Tournaments that have lead to the coining of the term "Tournamania".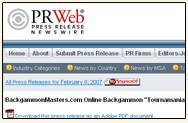 BackgammonMasters freerolls literally multiply by the hour.
Players can log in and participate in a FreeRoll at any time they get the bug.
BackgammonMasters coined the term Tournamania to describe its commitment to provide the largest number of to provide the largest number
of tournaments available for participation at any given moment,
24 hours a day. And, to be the site that gives away the most money to its players than any other backgammon site.

A BackgammonMasters spokesperson says: "We are proud to be able to provide our members a way to enjoy this platform that connects players from around the world wanting to compete and who enjoy the game using our software. The FreeRolls have become so popular with players and have created such a huge flow of traffic, that natuarally we strive to give back to the players in appreciation for their making BackgammonMasters their home for online backgammon tournaments."

BackgammonMasters claims to have an edge on the competition not only because of their Tournaments and Prize Pools, but standing at the base of these spectacular giveaways is an extremely powerful yet stable software platform. This platform is able to provide a graphically rich playing environment, and yet is stable and secure enough to hold a huge influx of participating players. Thats no easy task.

In addition to $750 in Daily FreeRoll Tournaments, BackgammonMasters Tournamania includes weekly Tournament ranging from 3K, 10K, 15K and even their largest to date $101,000 Marathon Tournament held last year.

This weeks $10,000 FreeRoll Tournamania tournament kicks off on Friday, February 9th at 21:00 GMT. Login and register in the Game Lobby anytime before the tournaments begin. For more information go to BackgammonMasters.com.