Backgammon Help

Choose Real Money or Play Money by clicking the button at the bottom.




To your left is our Game Tree. The game tree shows you the types of games available: Single, Open Table, Hyper, Match, Sit & Go, FreeRoll Tournaments and more. Play unlimited tournament games, and up to 3 regular games simoultaneously!


Real money mode

Single Play and Match Play games are set up for you. Just decide how much you want to wager (Stake/Limit) and click on the room you want.

Poker Rooms
Play Limit Texas Holdem Poker. Just click on the rooms you want to display according to stake/limit. Then select a table to join from the list in the center of your screen.


Open Table rooms allow you to set your own game specifications, such as stake/limit and whether or not you want the option of doubling. Minimum with doubling cube: $15/$30

Hyperbackgammon is a special variant of backgammon. You play with just three checkers each, but the rules are the same.

Sit & Go tournaments are offered around the clock. As soon as enough players register, the tournament starts.

FreeRolls
Tournaments with no buy-in. BackgammonMasters offers 6 Freerolls each day with 28 winners. Daily prize pool of $750!


Play Money mode

Stakes/Limits - Stake is the per-point value of the game. Limit is the maximum value of the game.


Perudo - For more information and game instructions click here

Poker - For more information and game instructions click here
| | | |
| --- | --- | --- |
| | | The Cashier shows how much money you have. You have play money to practice with. When you're ready to add real money, click the cashier to deposit. |

When you enter a room , you'll see




Double-click the player you want to play with. The bright yellow is you.

The Game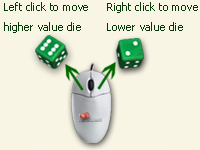 When the game begins, the dice roll automatically.

If the opening rolls are the same for both players, the game will automatically be doubled.

If it's your turn, click the mouse on the checker that you want to move.

If you want to use the smaller-value die first, click with the right mouse button instead of the left one.

If you make a mistake, you can click back.

When you're ready to end your turn, click on the dice, hit the space bar, or click done.

Be sure to open the features menu to see your options!

If your dice are rolled automatically, you won't be able to double.

For information on all of our other features, go to www.BackgammonMasters.com/features.html

If you have specific questions about money, go to www.BackgammonMasters.com/real_money.html

If you have more questions try our FAQ at www.BackgammonMasters.com/faqs.html

If you don't find what you're looking for, please send mail to the following email addresses according to your needs. Be sure to reference your username to help us handle your concerns as quickly as possible:
if you have a problem with a particular game, be sure and include the game ID number, your opponents username and time/date of game.
Account information: account@backgammonmasters.com
Technical: technical@backgammonmasters.com
Cashouts and Deposits: cashier@backgammonmasters.com
Bonuses and Promotions: bonus@backgammonmasters.com
Tournaments: tournaments@backgammonmasters.com
General Marketing: marketing@backgammonmasters.com
Affiliate Program and Marketing: affiliates@backgammonmasters.com
Abuse Reports and Complaints: abuse@backgammonmasters.com
For all other issues, click on support@BackgammonMasters.com and we'll get back to you as soon as we can.